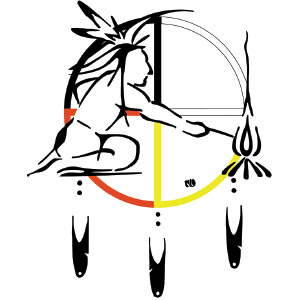 Brief History
The Forest County Potawatomi  call themselves the "Keepers of the Fire."  They are Algonquin, a European term. The Potawatomi are part of a confederacy with the Ojibwe (Chippewa) and Odawa (Ottawa). These nations are known as the Council of the Three Fires. At the time of first contact with Europeans, the Potawatomi were living in what is today lower Michigan, Ohio, Indiana, Illinois, and Wisconsin.
The Potawatomi signed 42 treaties with the United States federal government–more than any other American Indian nation. The first of many treaties which took Potawatomi lands was signed in present-day Ohio in 1795.  In 1830, as a result of the Indian Removal Act passed under President Andrew Jackson, the Potawatomi and many other tribal nations living east of the Mississippi River were forced to move to what was known as Indian Territory (now Oklahoma) and other states in the western United States.  In 1833, this treaty took away 5,000,000 acres of land from the Potawatomi. During this period, the United States military rounded up many of the Potawatomi and forcibly removed them from traditional lands. Like many other tribal nations, many of the Potawatomi bands eventually settled in present-day Kansas and Oklahoma. However, several other groups of Potawatomi refused removal and fled to the present-day states of Wisconsin, Michigan, and into Canada.
Around 1880, a group of Potawatomi settled in an area near present-day Blackwell, Wisconsin, and Wabeno, Wisconsin in Forest County. This group of people established the  Forest County Potawatomi. In 1913, the Forest County Potawatomi community was officially recognized and made its initial land purchases to establish a reservation.
In 1937, the Forest County Potawatomi formally adopted a new form of government as part of the Indian Reorganization Act of 1934. During this time, they adopted a constitution and bylaws that provided for a tribal chairperson, vice-chairperson, secretary, treasurer, and two council members. In 1982, they signed a second Forest County Potawatomi constitution and bylaws superseding the 1937 constitution.
In 1988, the National Indian Gaming Regulatory Act was approved, which allowed for the operation of gaming by American Indian nations on tribal lands in Wisconsin and the United States. In 1991, the Forest County Potawatomi Community opened Potawatomi Bingo in Milwaukee, and in 1992 they signed a gaming compact agreement with the State of Wisconsin.
Present Day
Today, the Forest County Potawatomi is the largest employer in Forest County and is among the largest employers in Milwaukee County. Economic enterprises within the tribal nation include tribal administration, a health care clinic, social services, lodging, gaming, a deer farm, a gas station, a newspaper, capital investment, and real estate, among others. In 2003, a four-tribe alliance of the Forest County Potawatomi, Oneida, San Manuel Band of Mission Indians, and Viejas Band of Southern California built a partnership venture and opened the Residence Inn in Washington D.C.
The Forest County Potawatomi do not have a law enforcement office. They do have an independent tribal court that oversees cases that include Indian child welfare, adoptions, truancies, name changes, and limited small claims cases.
For additional information  about the Forest County Potawatomi, consider the following resources:
The essay was  altered and reprinted with permission from the Wisconsin Department of Public Instruction 
---
Explore More Forest County Potawatomi Resources