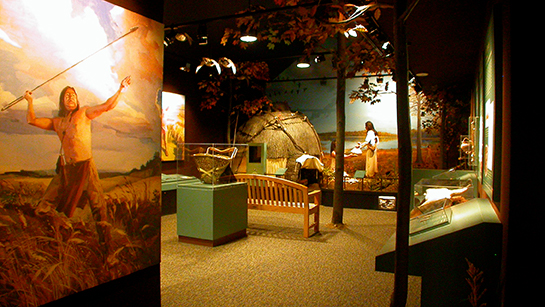 Details
Last updated on Monday, October 8, 2018. Please use the contact information below for the most up to date information.
Category:Museum
Audience:Grades PK-12
Cost:Free school tours
Phone:(920)563-7769
Email:info@hoardmuseum.org
Address
401 Whitewater Avenue
Fort Atkinson, WI 53538
About
Come visit the "Mysteries of the Mounds Gallery."
This exhibit explores the mystery behind the earthen mounds built a thousand years ago by Native Americans. It contains a diorama of a Late Woodland Camp complete with a replica keyhole pit house built so that students can view the interior. In addition to artifacts and text panels, this gallery contains a theater that runs a 17-minute video devoted to explaining the types of earthen mounds built a thousand years ago and earlier, across the southern half of Wisconsin.
Consider visiting this gallery, watching the video, and then venturing out to nearby Mounds sites that are open to the public. The Jefferson County Indian Mounds Park and Trail is about 10 minutes south of Fort Atkinson on the northeastern shore of Lake Koshkonong. The Effigy Mounds Preserve is located on nearby Whitewater's west side. Aztalan State Park is located about 20 minutes north off Hwy 89.
---