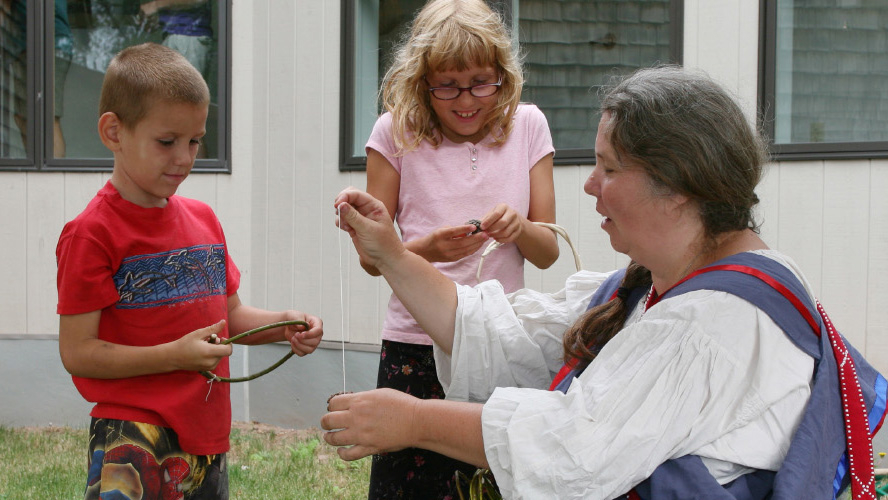 Website
Details
Last updated on Monday, October 8, 2018. Please use the contact information below for the most up to date information.
Category:Museum
Audience:Grades 3-5
Cost:Ages up to 17: FREE; Ages 18 & 65+: $7; Ages 19-64: $8; School Program: $3/student
Phone:(715)747-2415; for tours, contact the Madeline Island Ferry Line at (715)747-2051
Address
226 Colonel Woods Avenue
La Pointe, WI 54850
About
Picturesque and historic Madeline Island first cast its spell on Leo Capser in 1903. In 1958, the love he felt for the island manifested itself into the Madeline Island Museum.
The Madeline Island Museum exhibits teach about the area's Native American tribes, the fur trade, early missionaries, and maritime history. The museum is comprised of the original museum and a modern expansion. The original museum is four historic log structures that have been relocated and connected together. It includes the only remaining building of the American Fur Company complex built at La Pointe in 1835, making it the oldest structure on Madeline Island. That building is adjoined to an old barn, the former La Pointe town jail, and the Old Sailor's Home, which had been built as a memorial to a drowned sailor. In 1991 the museum expanded by adding the Capser Center and, in 1995, the connecting Walkway Gallery.
On the front lawn, a pair of fog horns and a bell from nearby Long Island greet your arrival. Anchors from the schooner-barge Pretoria and a propeller from the tug Ashland pay tribute to the area's maritime history. These large and impressive artifacts have been a favorite for island visitors.
For a more in-depth experience for students, consider having your students attend the school program, which centers around pre- and post- European contact life on the island.
Please note that school groups will need to call the Madeline Island Ferry Line at (715)747-2051 to schedule tours as busses will need to make reservations with the ferry in order to visit the island.
---