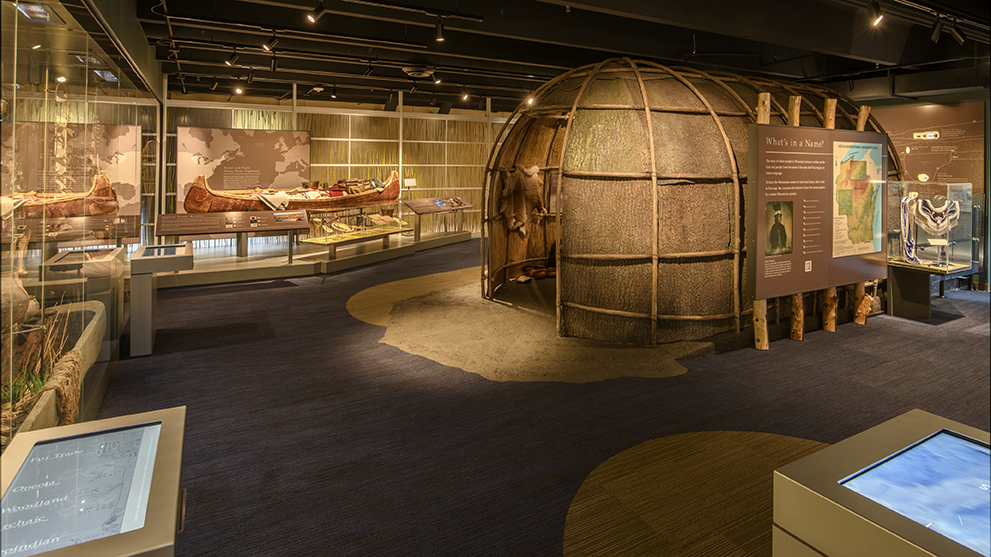 Details
Last updated on Monday, October 8, 2018. Please use the contact information below for the most up to date information.
Category:Museum
Audience:Grades PK-12
Cost:Adult $8; Senior (62+) $6; College Student $6; Children (6-17) $4; Children under 6: free
Phone:(920)236-5799
Email:museum@ci.oshkosh.wi.us
Address
1331 Algoma Boulevard
Oshkosh, WI 54901
About
People of the Waters is a long-term exhibition about Wisconsin's prehistoric past that illustrates Native American culture which stretches back over twelve thousand years. It also celebrates the survival of Wisconsin's Native Nations and the state's eleven tribal groups. The exhibit received national recognition in the form of the prestigious AASLH Award of Merit.
This cutting edge experience features interactive media kiosks and a dynamic forty-foot long glass wall that showcases over 1,000 artifacts, representing at least 13,000 years of history. Discover more with the Virtual Exhibition. An animated, multi-touch video program takes guests on a journey through the last Ice Age. A full-sized recreated Oneota longhouse from 1,000 years ago shows daily life in a Native village, and a walk-over archaeological excavation teaches how archaeologists determine how early people lived and used the region's diverse natural resources to survive. An innovative Trap and Trade game allows players to experience first-hand how trading occurred, and a Living Cultures area shares how Wisconsin's Native cultures live on.
People of the Waters provides an enriching K-12 field trip opportunity that aligns with and enhances classroom instruction. Complete lesson plans are available for download: Elementary School, Middle School, High School.
---